Program Goals
What is the Japan Internship Program?
From the aspect of Japanese companies' promoting overseas business expansion and creating innovation from a new point of view, utilizing highly-skilled foreign professionals is considered to contribute to strengthening the competitiveness of Japanese companies.
Although the number of Japanese companies planning to hire global talent has increased in recent years, it has not been sufficiently achieved, especially in Small and Medium-Sized companies, due to their short on experiences of working with the global talent and lack of networks.
Therefore, "METI Japan Internship Program" will facilitates strengthening the structure for tackling overseas development of Japanese (Small and Medium-Size) companies through accepting foreign university students and global talent.
We will provide opportunities for global talent who want to work in Japanese companies, to understand the job responsibilities in Japan through participation in internships. In addition, this year, some internships will accept pairs of foreigners and Japanese students, contributing to the globalization of Japanese students.
Internship Style
This year, we will offer internships that can be chosen from the following three courses (*).
(* If there is a second recruitment, courses 1 and 2 will be two terms, resulting in a total of five courses.)
A/A2 Course < Commuting internships >
You will commute from your home to the internship company every day and perform your duties there. You can work face-to-face with your colleagues and supervisor there, which is a working style that facilitates communication.
B/B2 Course < Online internship >
Internship experience is conducted from your own home or elsewhere. This style is suitable for companies considering overseas expansion, as it allows to conduct surveys that can only be done locally. It is also convenient for participants from overseas, as they can participate in the internship without having to go through immigration procedures.
C Course < Visiting internship >
The interns will come from overseas and commute daily from their accommodation facility within commuting distance to the internship site. This provides the opportunity to gain experience working in Japan and learn about Japanese culture and lifestyle.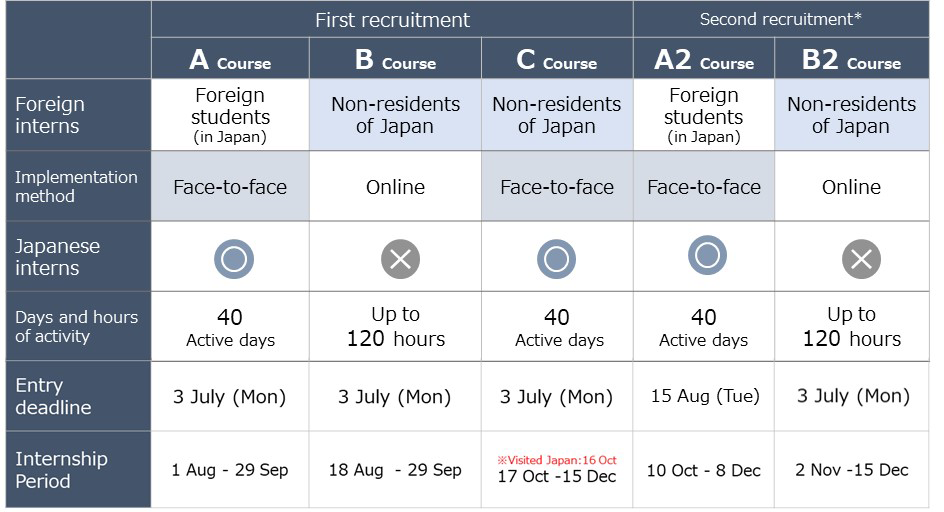 Program Framework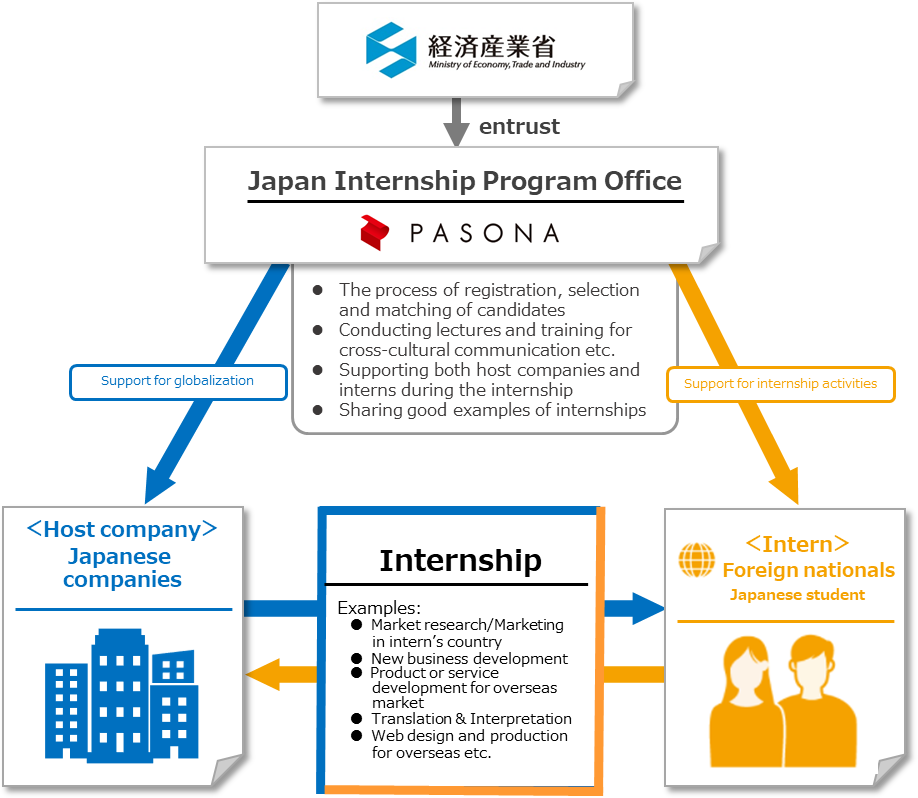 Confirm from here about the definition in this program of terms "Internship""Host company""Intern""Screening Committee".